Person of Beeston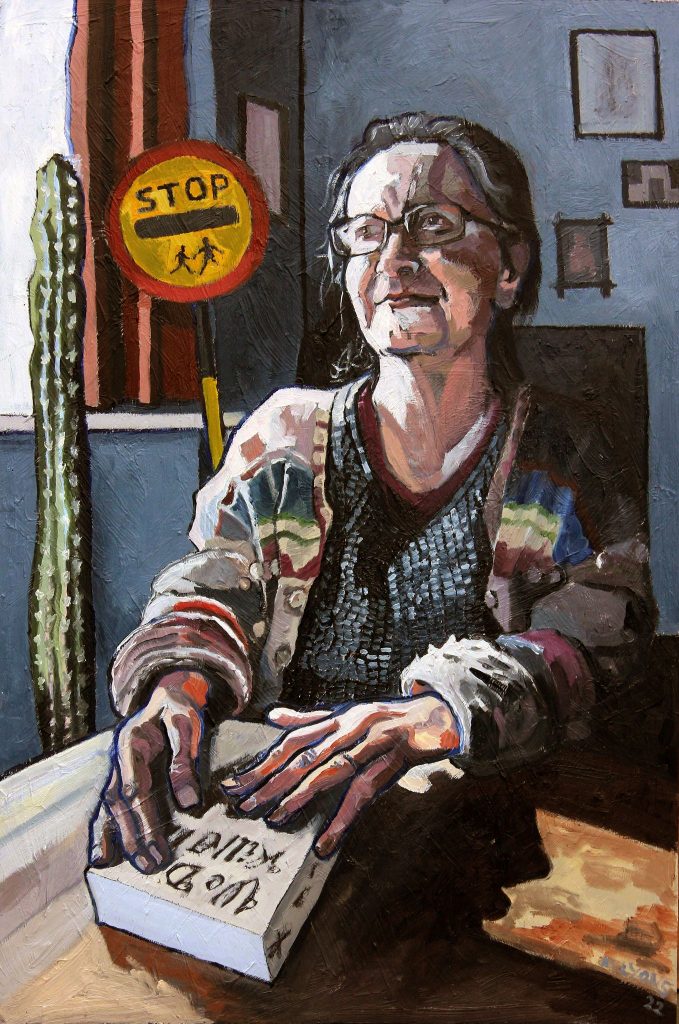 I was very flattered a little while ago when a local artist I knew slightly said he wanted to paint my portrait.
His name is Matthew Lyons, and I think it was during the pandemic that he decided to paint a varied series of local people, who he thought were interesting and/or well-known in the area. He photographed me at home, and worked from the photo – and in due course the series of twenty "People of Beeston" was completed. Over the last few days it has been on display in the local parish church (having been rescheduled due to the Queen's death), and more details of the artist, the exhibition and the portraits can be seen here https://www.matthewlyonsart.com/people-of-beeston
The church setting was beautiful and showed the works off well. As can be seen, they all have a distinctive Lyons style, and yet are all very different. I was particularly struck by one of a local boxer, Joe Hughes, in thoughtful pose. Each portrait was accompanied by an artist's note about why he chose that person, and any comments on the process of the sitting and the painting.
The most well-known Person of Beeston unquestionably is our beloved smiley road-sweeper, Nigel Pepper, but the series also includes an opera singer, a child who ran 5 kilometres round the block every day during lockdown, a drag queen, the Mayor of Broxtowe and the founder of one of our most popular Chinese restaurants. I don't profess to know the majority of them, and only one or two were already familiar, although ironically the "poster picture" for the series is the parent of one of my "customers" – before going to the exhibition I saw and even hosted the posters, thought the sitter looked familiar, but still didn't make the obvious connection – "he's familiar because you see him most days!"
My portrait, as can be observed above, includes not only a multi-coloured cardigan which Matt said was difficult to paint (he thrives on difficulty, I think) and the enormous cactus which my mother-in-law and husband grew from a Californian seed, but also the two aspects of my life that interested the artist, presumably for their contrast: the lollipop and a copy of "We Do Not Kill Children."
Book four (renamed "Tell Me Your Name") is still in progress. More information soon!
Love from the PPI Blogger
PS Regular readers (and commenters) of/on this blog will be sorry to hear of the death of Judith Leader, who regularly wrote brief but thoughtful notes below. She was born in 1945 in Leeds, worked for many years as a nurse for premature babies, and was a staunch friend and volunteer. Her granddaughter taught her how to make "hammer bead" pictures, and one of her many kind gestures was to create mats displaying the titles of each of my books (which she liked, somewhat I think to her own surprise.)